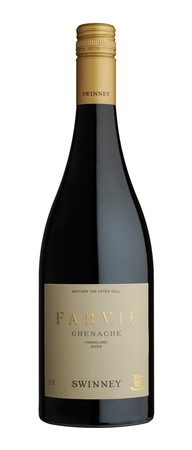 2018 Swinney 'Farvie' Grenache
Nick Ryan, Review, Aug 2019
Grenache is a rare beast in Western Australia; grenache grown on untrellised bush vines even more so. But the masochism required to follow such a labour-intensive and low-yielding practice is something Swinney clearly has in spades.
This wine is one that actually adheres to the notion that great wine is made in the vineyard, with each vine picked and sorted in situ, and only the very best bunch or two from each vine, those sitting in the optimal spots in the vine's architecture, being set aside for Farvie.
That ruthlessness pays off big time. This wine has emphatically inserted itself into the conversation around the best grenache wines on the planet. It delivers the bright berry and exotic spice characters often associated with the variety — think wild raspberries, dark cherries, star anise and mace — but within a tight, coiled and tensile structure that stamps this as grenache of the utmost seriousness.
Huon Hooke, The Real Review, Aug 2019
Deep red colour with a tinge of purple, and good depth. The bouquet is superbly aromatic, with an array of spice nuances, fruit-driven and beguiling. The palate has great intensity and drive, elegance and charm, with a deep core of sweetly ripe berry flavours and substantial tannins drying the finish and aftertaste. The tannins are abundant and ripe, the finish very long-lasting. A modern grenache style that exhibits an elegance and lightness of touch seldom seen in grenache in Australia. A stunning wine. (5% mourvèdre. To be released in March 2020). 97 pts
Ray Jordan, The West Australian, November 2019
This is a remarkable wine that captures the essence of this variety in a way not seen before in Australia. It's a medium-bodied wine, yet the palate delivers deep and complex flavours through to an exceptional finish. Has a European gravelly, grainy mouthfeel that carries plenty of intensity albeit delivered with such poise and almost shy coyness. 98 pts
Jancis Robinson, jancisrobinson.com, October 2019
More intense and luscious than the regular Swinney Grenache. The fruit, the whole fruit and almost nothing but the fruit. A really gorgeous wine that's not like any other Grenache or Garnacha I have come across – presumably a terroir expression. 18/20
Wine Specs
Appellation
Frankland River
Harvest Date
23rd March 2018
Wine Profile
Production Notes
The fruit was hand-picked from established bush vine Grenache and Mourvèdre on our Frankland River vineyard, berry sorted and gravity fed to a French oak vat. We incorporated 15% whole bunch Grenache and 5% Mourvèdre followed by wild fermentation, to build structure and texture and provide the framework on which to express the distinctive aromatics and flavours of Grenache. The wine spent 10 days on skins prior to basket pressing directly to fine grained large format seasoned French oak followed by aging for 11 months prior to bottling. The wine was made with minimum effective Sulphites, is un-fined and minimally filtered.
Reviews
Huon Hooke, The Real Review, Aug 2019
Deep red colour with a tinge of purple, and good depth. The bouquet is superbly aromatic, with an array of spice nuances, fruit-driven and beguiling. The palate has great intensity and drive, elegance and charm, with a deep core of sweetly ripe berry flavours and substantial tannins drying the finish and aftertaste. The tannins are abundant and ripe, the finish very long-lasting. A modern grenache style that exhibits an elegance and lightness of touch seldom seen in grenache in Australia. A stunning wine. (5% mourvèdre. To be released in March 2020). 97 pts
Ray Jordan, The West Australian, October 2019
This is a remarkable wine that captures the essence of this variety in a way not seen before in Australia. It's a medium-bodied wine, yet the palate delivers deep and complex flavours through to an exceptional finish. Has a European gravelly, grainy mouthfeel that carries plenty of intensity albeit delivered with such poise and almost shy coyness. 98 pts
Jeremy Oliver, www.jeremyoliver.com.au, December 2019
Grand Cru level grenache, with a fiery, spicy bouquet of dark cherries, redcurrants, blueberries and kernel notes lifted by a floral perfume and backed by suggestions of minerals, mint and paprika. It's opulent but elegant, explosively intense but ultra-precise, with a deep presence of red and blue fruits artfully knit with cedary oak and a fine, gravelly extract that becomes more bony, assertive and savoury towards the finish. Very stable and long-term. 97 pts
Jancis Robinson, jancisrobinson.com, October 2019
More intense and luscious than the regular Swinney Grenache. The fruit, the whole fruit and almost nothing but the fruit. A really gorgeous wine that's not like any other Grenache or Garnacha I have come across – presumably a terroir expression. 18/20