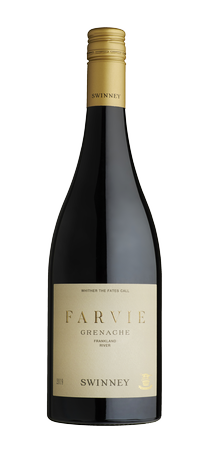 2019 Swinney 'Farvie' Grenache
2022 Halliday Wine Companion
What sets hearts on fire the world over for Châteauneuf-du-Pape is the muscular, ferrous, salty raspberry humbug and minerally hutzpah. It sets the high-tide mark for grenache. We grenache drinkers yearn for it. And here it is. The strength of Frankland River is its ability to marry sweet (glossy) red fruit to savoury, gravelly earth. The 2018 was a staggering showpiece, this is more restrained, cooler and finer, yet equally long. Choose your weapon. 98pts - Exceptional
2021 Decanter World Wine Awards
Refined, complex and crammed with juicy, super pure, intricated layers of pristine red fruits and a plethora of spices. Not at all reliant on its buoyant fruit, keep this as it will be a stunner. GOLD
Jancis Robinson, www.jancisrobinson.com, May 21
Headily sweet nose with some subtlety and some qualities that are not unlike burgundy (apart from the alcohol and the quite considerable tannins). Lifted and sweetly fragrant. A real charmer. Very Grenache. I notice that on the notes no vine age is specified. I wonder how old the vines are? Impressive persistence on this. Denser and more complex than the regular Swinney Grenache. That well-used phrase 'haute couture' may be appropriate here. 17.5/20
Ray Jordan, The West Australian, Feb 2021
What a follow-up to the remarkable 2018 debut. The high perfumed notes strike immediately and almost define what is to follow. It's a very pretty wine with more seductive perfumed notes than the 2018, most likely a result of the slightly cooler vintage. There is about 12 per cent mourvedre in the blend and all the fruit comes off the Swinney bush vines. Only large-format seasoned oak has been used. A striking wine of refinement and power that delivers with an effortless deft touch. This is a modern grenache with a distinctive Frankland stamp. 98 pts
Nick Ryan, The Australian, March 21
The initial release of this wine drew global attention to sleepy Frankland River. This follow up not only lives up to expectations but expands them. It's grenache with grit, a sublime entwining of the variety's red berry perfume with the often elusive granitic grip that defines the greats. Already comfortable among the best examples of this variety on a global scale.
Wine Specs
Appellation
Frankland River
Harvest Date
8th April 2019
Wine Profile
Production Notes
The fruit was hand-picked from established bush vine Grenache and Mourvèdre on our Frankland River vineyard, berry sorted and gravity fed to a French oak vat (1600 litres). We incorporated 8% whole bunch Grenache and 12% Mourvèdre followed by wild fermentation to build structure and texture and provide the framework on which to express the distinctive aromatics and flavours of Grenache. The wine spent 10 days on skins prior to basket pressing directly to fine grained large format seasoned French oak followed by aging for 11 months prior to bottling. The wine was made with minimum effective Sulphites, it is unfined and minimally filtered.