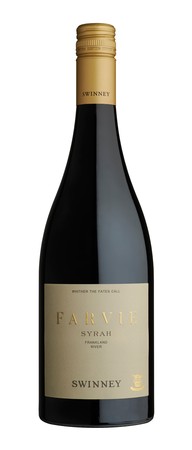 2018 Swinney 'Farvie' Syrah
Nick Ryan, The Australian Financial Review, March 2020
This might just be the best shiraz I've seen out of Western Australia. It is a finely etched, tightly wound and mineral-laced wine that redefines the variety in the west. It substitutes the variety's usual flesh and opulence for a more finely hewn shape, switching out heft for suppleness and sinewy grace without ever sacrificing power and drive. Black fruits, roasted spices, dark plums and a palpable sense of the ironstone that sits beneath the vineyard, this, like the grenache, is a masterclass in tension; a wine that requires you to come to it, rather than one that explodes from the bottle intent on seduction through sweet fruit.
Huon Hooke, www.therealreview.com.au, August 2019
Very deep, dark red/purple colour, with a strongly reductive bouquet that also shows masses of spices - pepper uppermost. The palate is firm and taut and elegantly-structured, but finished with tight tannins and long persistence. The tannins are fine, firm and supple, the balance of the wine quite outstanding. It combines great elegance and fineness of structure with tremendous depth, intensity, and length. A most impressive wine, quite correctly entitled syrah. 98 pts
Ray Jordan, The West Australian, October 2019
A jaw-dropping, ground-breaking syrah from Frankland River. This is not the sweet fruit Aussie shiraz or syrah but more a savoury, grainy style more associated with the Rhone in France. Fine, firm tannins run deep and the oak has been expertly and subtly applied. But it is the way the fruit expresses that strikes as different and exciting. 98 pts
Jancis Robinson, jancisrobinson.com, October 2019
An even deeper, purpler colour than the Farvie Grenache. Tea-leaf aromas and very tight indeed. The sample I tasted desperately needed aeration. There is a lot going on underneath, and no shortage of tannin. The following morning some savoury aromas had emerged but this is still extremely dry and dense, and I suggest a bit more bottle age would be no bad idea. Much less evolved and more tightly focused than the Farvie Grenache. And again, very individual. Nothing like south Australian Shiraz, and nothing like the Rhône – perhaps a little more like southern Rhône Syrah than anything from the north. 17+/20
Wine Specs
Appellation
Frankland River
Harvest Date
15th & 19th March 2018
Wine Profile
Awards
98/100 Huon Hooke; 98/100 Ray Jordan; 97/100 Jeremy Oliver
Production Notes
The fruit was hand-picked from two parcels of 21-year old Syrah vines on our Frankland River vineyard, berry sorted and gravity fed to a French oak vat and two demi-muids. We incorporated 55% whole bunches followed by wild fermentation to build structure and texture, while promoting the bright and spicy aromatics. The wine spent 11 days on skins prior to basket pressing directly to fine grained large format French oak (35% new) followed by aging for 11 months prior to bottling. The wine was made with minimum effective Sulphites, is unfined and minimally filtered.
Reviews
Huon Hooke, www.therealreview.com.au, August 2019
Very deep, dark red/purple colour, with a strongly reductive bouquet that also shows masses of spices - pepper uppermost. The palate is firm and taut and elegantly-structured, but finished with tight tannins and long persistence. The tannins are fine, firm and supple, the balance of the wine quite outstanding. It combines great elegance and fineness of structure with tremendous depth, intensity, and length. A most impressive wine, quite correctly entitled syrah. 98 pts
Ray Jordan, The West Australian, October 2019
A jaw-dropping, ground-breaking syrah from Frankland River. This is not the sweet fruit Aussie shiraz or syrah but more a savoury, grainy style more associated with the Rhone in France. Fine, firm tannins run deep and the oak has been expertly and subtly applied. But it is the way the fruit expresses that strikes as different and exciting. 98 pts
Jeremy Oliver, www.jeremyoliver.com, November 2019
Smoky and floral, with spicy notes of cassis, blackberries, dark plums and mocha oak over suggestions of paprika and gravel. It's long and seamless, with a juicy core of powerful fruit artfully knit with slatey tannins and tight-grained oak, extending with remarkable drive and power towards a measured, savoury finish. Exemplary, in a textural Rhône-inspired style. 97 pts
Jancis Robinson, jancisrobinson.com, October 2019
An even deeper, purpler colour than the Farvie Grenache. Tea-leaf aromas and very tight indeed. The sample I tasted desperately needed aeration. There is a lot going on underneath, and no shortage of tannin. The following morning some savoury aromas had emerged but this is still extremely dry and dense, and I suggest a bit more bottle age would be no bad idea. Much less evolved and more tightly focused than the Farvie Grenache. And again, very individual. Nothing like south Australian Shiraz, and nothing like the Rhône – perhaps a little more like southern Rhône Syrah than anything from the north. 17+/20